After many months of working hard, setting up, and spreading the word of what is to come, DJ Dave Productions is so excited to announce the feature of our new app now found in both the Apple Store, and the Google Play Store. It is absolutely free for anyone to download and it provides everything you need to plan your Wedding right at your fingertips!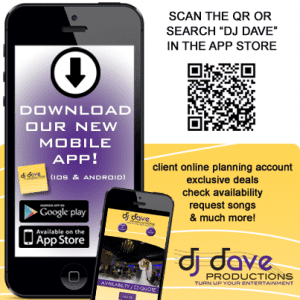 For all those busy days when we just don't have time to sit in front of our laptop, the times when it's easier to just do everything on your phone, well we know just how much life can through at you, so we wanted to help make planning your Wedding/Event stress free and easy to manage. With all the information you need in one app, right in the palm of your hand, it doesn't get much better than this.
With features like our Partner Resources where you can view a list of all our recommended vendors, their contact information, and even where they are located. You can see our Gallery, Access your Online Planning Account, Check Availability, Request Songs, and even see our Exclusive Deals!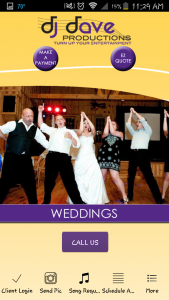 Everything you could possible think of in one App! Easily accessible, Navigate with no issues, & Totally Awesome!!
Read all about us, See our Awards, and Learn about our services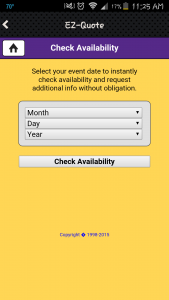 Check to see if your Wedding/Event Date is still available and get an EZ Quote immediately right from the app!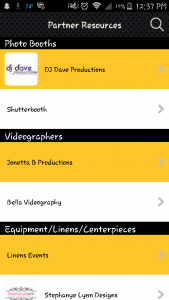 Still need help finding the right vendors for your Special Day? View all of our recommended vendors with all of their contact information right there in one spot!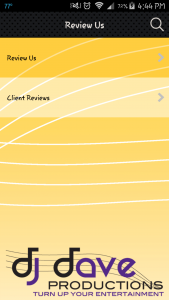 You can even read all of our Client's Stories or Review Us yourselves right through the App!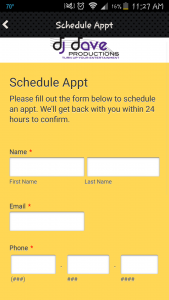 Want to meet us?! Request an appointment throughout your busy day, without having to stop to make that call.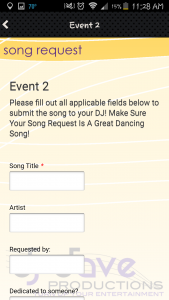 Attending a Wedding? Request a song right from your phone! Your request goes directly to the DJ at that event, and you don't even have to leave your seat!
What's cooler than sending in a Song Request? Taking your very own picture from the Wedding your attending and send it to us directly through the App!
And the Best Feature about DJ Dave Productions new Mobile App…. [Drum Roll Please]… is the opportunity to take advantage of some Awesome Specials and Deals! You never know when a special may be sent out, but if you have downloaded our App, you will get an instant notification as soon as we send one out! Now That's Something You Just Can't Miss!!
There are so many more great features within our new App and I would love to show each one of them to you, but then I'll spoil all the fun! So you'll just have to go see all the cool things you can do for yourself!
Download DJ Dave Productions New App at the Google Play Store HERE.
Download DJ Dave Productions New App at the Apple Store HERE.
We are so very excited for our new Mobile App, and we can't wait to have the opportunity to share it with each and every one of you.
Don't Wait! Share it With All Your Friends & Family Now!