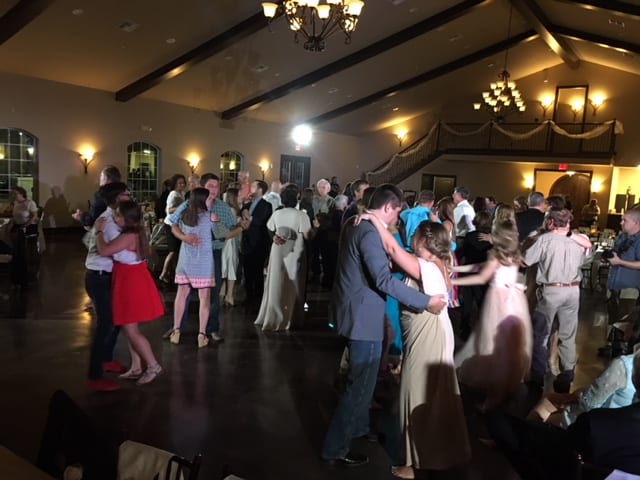 There are plenty of details that you will want on your big day, from a delicious wedding cake to a flawless bridal style. After all, your wedding is a once in a lifetime experience. Your wedding music also deserves a great deal of attention, so that you can present flawless entertainment.
Get Your Wedding Guests on the Dance Floor with Group Dances
Playing the best songs will draw your guests to the dance floor and encourage them to enjoy their time at your wedding! However, playing the wrong music could be detrimental to your celebration.
We value great wedding music and know that your guests will appreciate it too! That's why, here at DJ Dave Productions, we have gathered a few songs to consider for your own wedding "do not play" list. To discover what these songs are, be sure to continue reading:
Anaconda. In your search for dance floor music, you may come across the popular song Anaconda by Nicki Minaj. While it may get the dance rhythm flowing for some people, most others will be turned off by the harsh and explicit lyrics. This is a song best left for another time. Keep in mind that your family will be present, including small children and grandparents.
The YMCA. The YMCA by the Village People is a classic party choice for weddings, but its time has come to an end. This old song has no place in the wedding world anymore, as there are plenty of other group dance songs to get your guests into the dancing mood. Perhaps it's time to skip this song and find a new group dance melody.
The Chicken Dance. If you enjoy the cheese factor, you can certainly indulge in the very awkward and humorous song, the Chicken Dance. However, if you want to present a classy and festive wedding playlist, you can take a pass on this cheesy and outdated tune.
Tips for Choosing the Perfect First Dance Song for Your Wedding
Now that you are aware of what you should probably avoid for your wedding soundtrack, you can begin planning the perfect music for your big day. Here at DJ Dave Productions, as a wedding DJ in Houston, Texas, we would be honored to present the music for your wedding. Please contact us today to begin working with your Houston wedding DJ.