DJ Dave Productions will be exhibiting at the July Houston Bridal Extravganza Show at the George R Brown Convention Center. The show is July 16th & 17th, 2011.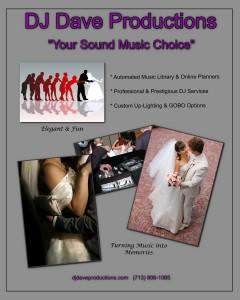 Welcome to the 27th Bi-Annual Bridal Extravaganza Show!
GETTING MARRIED?
We'll show you how to do it … Saturday, July 16th, 2011 10AM to 5PM to Sunday, July 17th, 2011 11AM to 5PM
Where to do it … George R. Brown Convention Center Downtown Houston, Texas Two Big Halls
Everything you'll need to do it … Even what to wear to do it!
Everyone is welcome! Bring your Bridal Party and the GROOM!